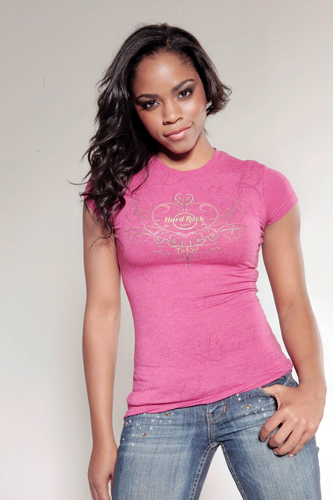 Rebecca Marie "Becky" Adams (Shanica Knowles) is a student of Oakwood City School (Student of 2012). She was born on March 12, 1992, in Los Angeles, born on a Bus by her mother. Becky attends to Oakwood City School, first seen in "Pilot", an first episode, who became friends with Sasha Henry (Keke Palmer) and Emmetta Jones (Paige Hurd), and usually Amy Montana (Alyson Stoner), happens in Season 1, first seen cheerleading in Season 3, she is terrible. In the beginning, Becky asks her friend, Sasha sharing some money she didn't have for lunch, she shares it with 2 dollars, because she has 20 dollars in her purse, because she is a rich person.
In Season 3, Becky plans on making her own job of "Becky's World", where she hired Becky, Emmetta and Zack as employees, after Zack starts a fire at Wal-Mart after got fired from his job, when he got angry at. In season 4, she will be part as a main character. She joined Sasha as a singing group, "The Sasha Sisters" alongside Emmetta. Later in season 4, Sasha discovers that Becky's weight is going out of control saying that she put on a lot of weight. Becky revealed to her, Emmetta and the rest of her friends that she is pregnant. Fearing that she may not graduate high school by dropping out, she decides to quit her career as singer.
Meanwhile, in episode "What's After High School?", she gave birth to girl named Brandi. Becky's parents decided to take care of the baby as she is starting her life after high school. In the series finale, Becky graduates high school. Meanwhile, she and Emmetta decides to go to New York to start a world tour, which will take two months, but Sasha will have to decide if she will go with them but was choosen to go to college with Nick. At the end of the episode, Sasha choose to go to college with Nick and put her career on hold as Becky and Emmetta both do the same thing.