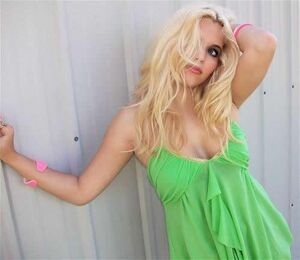 Maria Renee Anderson (Taylor Horn), born September 5, 1992, is a mean girl and outrageous princess, one of the popular girl of Oakwood City School District as well during North Pole Elementary, Oakwood middle school and high school, as well been along with a relationship, she always a bully, always like to mess with Amy, Sasha, Emmetta, sometimes to her friends, she always being mean to Amy, disputing her as a leader of her friends during her school years, and since was a cheerleader. Slowly in Season 1, they befriend with each other, when the meantime, both of them were fighting a "Cat Fight!". Maria sometimes defend being nice to Sasha, Emmetta and Becky, including Amy, still mean to her. It let her friends became friends with he8.
Maria and Chris were dating, for the meantime in the final episode of relationship of Maria and Chris, Cassie spotted them kissing. Meanwhile, she warns it to Amy, she doesn't believe her. Meanwhile, spotted them kissing, and Amy broke him up. Later, in part 2, Chris and Maria starts to get married, but he accident calls Maria Amy. Later, he broke up with her. Meanwhile, Maria became a friend with Oakwood city school's baddest bully ever, Brat. Maria has several of friends and girlfriends, she is a best friend to Emily Barnes, when the trio meet since pre-school.
In singing, Maria has the same talented voice than Amy's. Maria first appears in (Pilot), the first episode in the beginning of the series. In Season 8, she bullies with Cassie and Brenda when took a picture of them talking puppets posing showing to everyone on their cell phones. On Maria's sweet 16, she brought her own car. In the film Best Friends Forever: The Movie, Maria begins dating with Nick's childhood friend Duncan Harris (Mitchel Musso). But in the season finale of the third season, it was revealed that she and Duncan broke up, while Maria is currently in a new relationship with Adam Brown. However, in season 4 for an upcoming episode, it was revealed that they broke up and starts dating Bradley, making Amy jealous, where she is set to date with him after a broke up from Chris. They must let her and Adam to get back together so she can date Bradley for her Senior Prom. And, Maria overhears that they plan to end her relationship with Bradley. She eventually didn't realize that Amy would ask him. So she decided leave prom until Duncan showed up and came back together again. In the series finale, she attends college with Nick, Sasha, Becky and Emmetta as well as Adam.