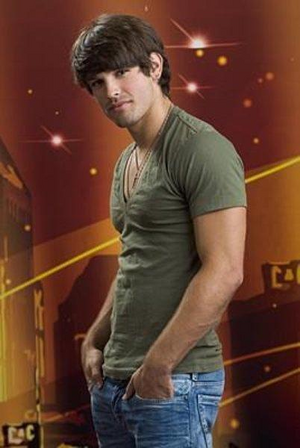 Bradley Oscar Johnson is a fictional character from Best Friends Forever, portrayed by Justin Gaston. He is described a pretty boy. Cassie and Amy describes Bradley a "Hunky Student". In season 4, he begins a romantic relationship with Amy after her depature relationship with Chris.
Character Biography
Edit
Bradley was born on November 19, 1991. He is in the football team and a straight A student, and many of the girls have a crush on him, and some of the many boys can be jealous, as jealousy happens in "Friday the 13th", when having a "True Boy Valentine's Night", girls are only invited with one single man they like. He appears in several of episodes for season 2 and 4. In the third season finale, he graduates high school. He is also a guitarist.
Bradley attends Oakwood City School for his entire life, and gets several crushes by girls throughout his entire life, which made him one of the most popular kids in school.
Relationships
Edit
Despite many girls had a crush on Bradley, he confirmed that he never had a girlfriend in his life.
In "How to Get Them Back Together", after a broke up from Adam, Maria dates with him, where Amy heats up with jealousy. She must break them up, so she cam have him as a date for the senior prom. However, plans worked as Maria decided to leave prom with her not having a date. But Amy showed up to become Bradley's date, and begin to kiss.
Amy is Bradley's first ever girlfriend. Although, he had dated Maria, but they did not actually go out as a couple. After they kissed, they realize that they both are in love with each other. Amy describes Bradley as "Hunky Boyfriend". But in "KYG: Kissing You Goodbye", Bradley dated another girl and is keeping a secret from Amy. But in the climax, Cassie acdidentally told a secret in front of Amy, and they both broke up for good. But Bradley mistakingly made a mistake and want to stay together, but Amy told him it's too late and left him crying the way out. Towards the end of the series, Amy and Bradley eventually ended up becoming friends. It was revaled by Cassie that Bradley has a girlfriend, and never revealed who is he dating with.
Apperance
Edit
In season 2, Justin Gaston is cast to play Bradley as a recurring character. Although during production of season 4, Jason Dolley depatures from being main characters as Chris Taylor due to filming Good Luck Charlie. Staff members decided that Bradley would become a main character for season 4 as a replacement for Chris.